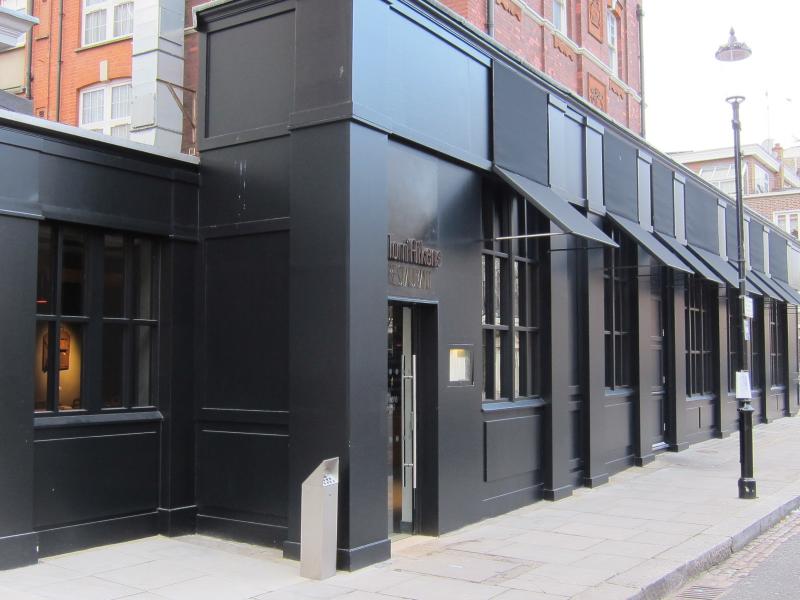 The last time we ate here was about four years ago.
We dined one sunny lunchtime as a table of four, expecting good food. What followed was much of a disaster. The service was ghastly, scandalously sloppy and irritatingly slow. To cap it all Tom Aikens love of beetroot resulted in a plate of food ( venison with textures of beetroot) that David Cronenberg would have been proud of. The only thing that was missing was the scary music.
We vowed never to return.
When I told my wife where we were going she said "Oh no, your joking, not the beetroot place".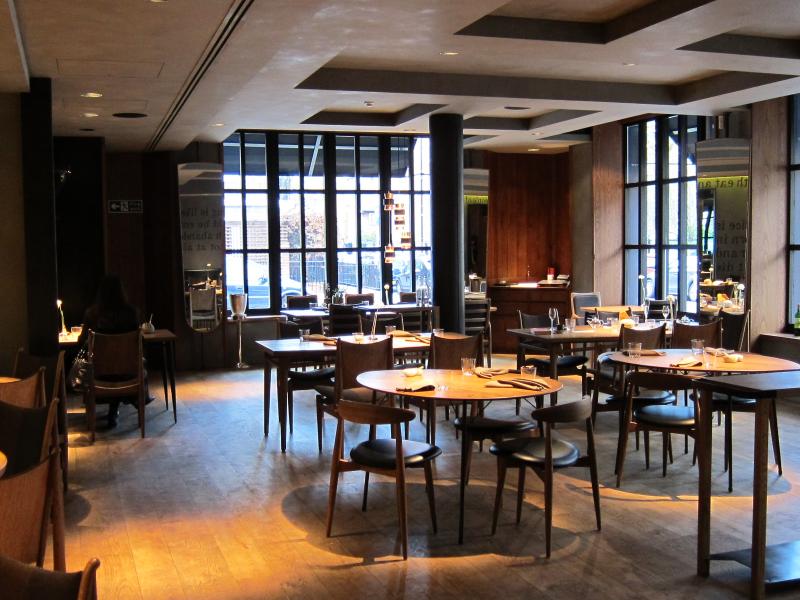 After reading a couple of good reviews outlining a full makeover I decided to give it another go. Not really knowing what to expect.
The room is still the same shape as it always was. Except now its a lot less formal, and exactly in keeping with what is happening more and more on the London dining scene. That casual style runs through to the staff uniforms, there are none as such, or at least anything recognisable, they are all on trend but different.
The amuse that arrived table side was a great teaser whilst we decided what to eat.
King Edward, ratte and violet potato crisps
with smoked herring mayonnaise topped with paprika and chopped egg. Far better than my favourite Kettle chips. If this was the start, roll on the rest.
It took a while for the freshly baked bread to arrive, but it was easily worth the wait.
Four rolls in a hessian sack served with three flavoured butters. The bread first, cep, buttermilk, polenta, and I forget. Butters were a fantastic cep, bacon and onion, and plain.
A cracking selection.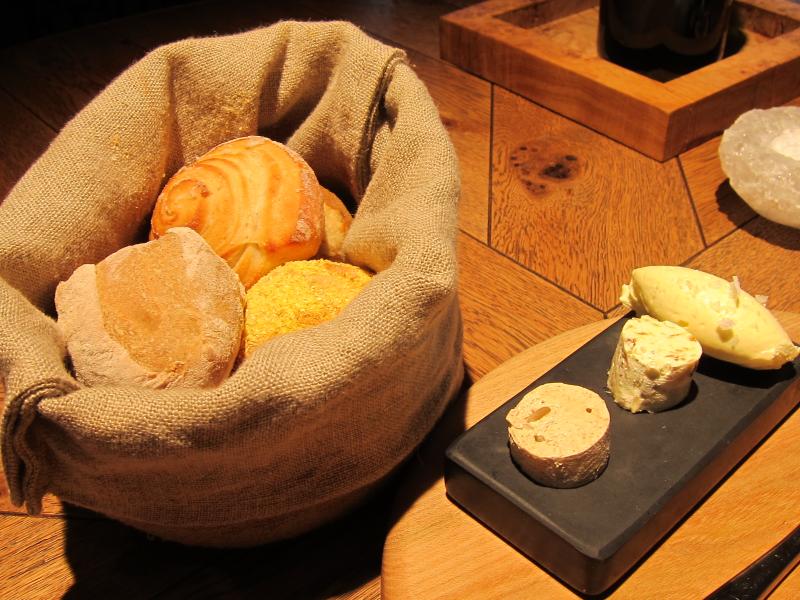 The lunch menu is tempting, a two, two, two, choice at £24 for two or £29 for three. The carte has a terrific choice two courses for £40 and three for £50, very reasonable for anywhere in London never mind a SW3 postcode.
Two tasting menus an eight course for £75 or six at £55. This is the one we chose. Applause to the kitchen also because both tasting menus are different making choice more difficult.
Raw turnip salad
does not sound very exciting but I guessed basic it would not be.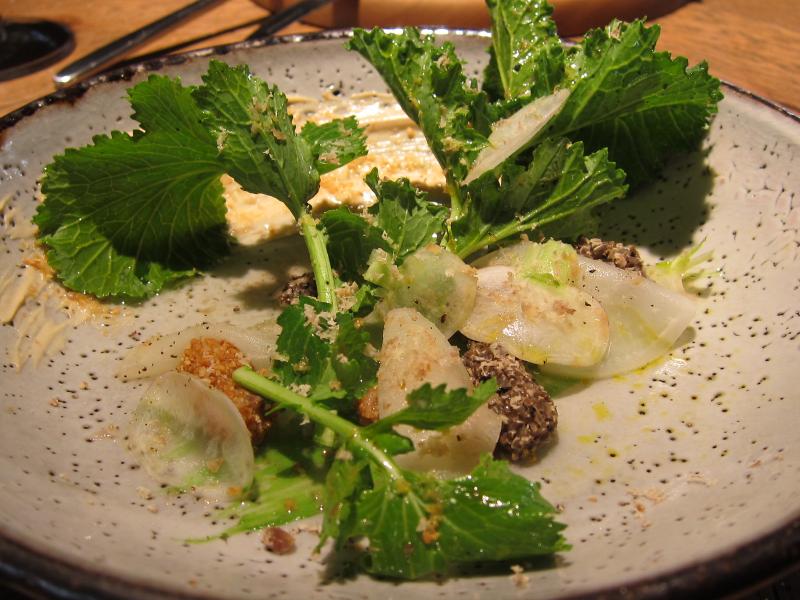 In keeping with the feel of the place the rough hewn plates showed off the food to a tee.
The chestnut consomme that was poured around the dish was a bit lost on me. The truffled chestnuts were interesting, as was the hazelnut mayonnaise that was smeared around the rim of the plate. Turnip tops and sliced turnip finished it off. Refreshing and quite a surprising combination. Good.
A signature dish next, and one that we were looking forward to.
Roast Foie Gras.
which was pan fried with a cider glaze. A cracking dish this, needless to say we could have wallowed in a larger lump of foie but that's just us being greedy.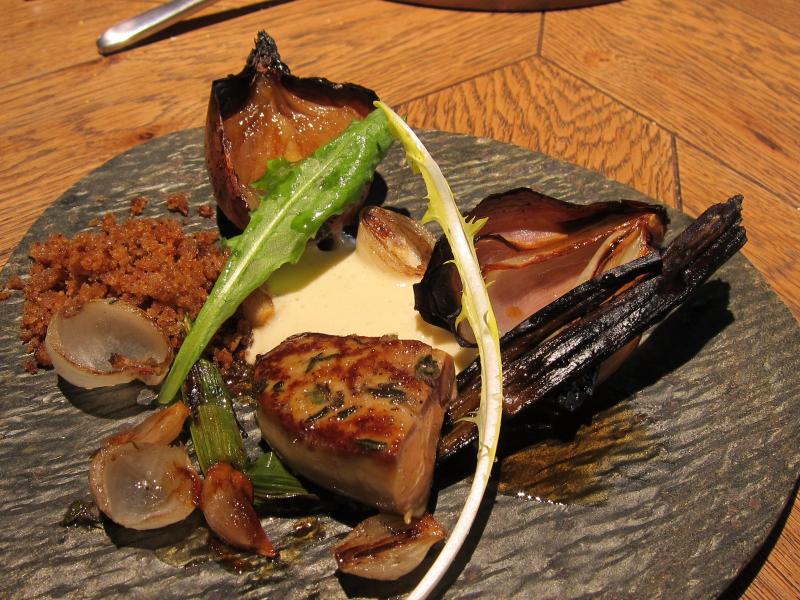 The slow roasted charred onions were a revelation. Sweet, smokey, yummy and melting, and interesting enough in there own right, also note a thyme sabayon. The waiter told us one of the onions had been burnt on purpose just to cut through the acidity. The whole plate of food worked really really well.
Smoked
Venison tartare
cured with juniper berries was plated with horseradish granite, hazelnut mayonnaise and wild sorrel. Good textures, nice mouth feel, perhaps a dish that I personally would not normally choose but we were both glad it was included in this menu.
The next dish did not really excite at first mouthful, but it gained stature with every single bite
Roast John Dory.
sweet cauliflower, poached and roasted, cumin seeds, brown butter and a selection of milk skin. I found out that the milk skin was made by poaching the cauliflower in milk then dehydrating the milk to end up with a skin. Next time we cook cauliflower, cumin will make an appearance with it, it really worked well.
Romney Lamb
next and this was fighting toe to toe for
the best dish of the meal with the foie gras.
Big, big briny flavours. Tender tasty nugget of lamb cooked sous vide, a bed of very finely diced green olives, goats curd, sliced confit garlic and a wonderful wafer thin battered deep fried anchovy. Our type of dish a real winner.
We worried about the dessert, would it work, or would it spoil the meal?
Candied Beetroot
you would not credit it. The stuff of our dreams (not).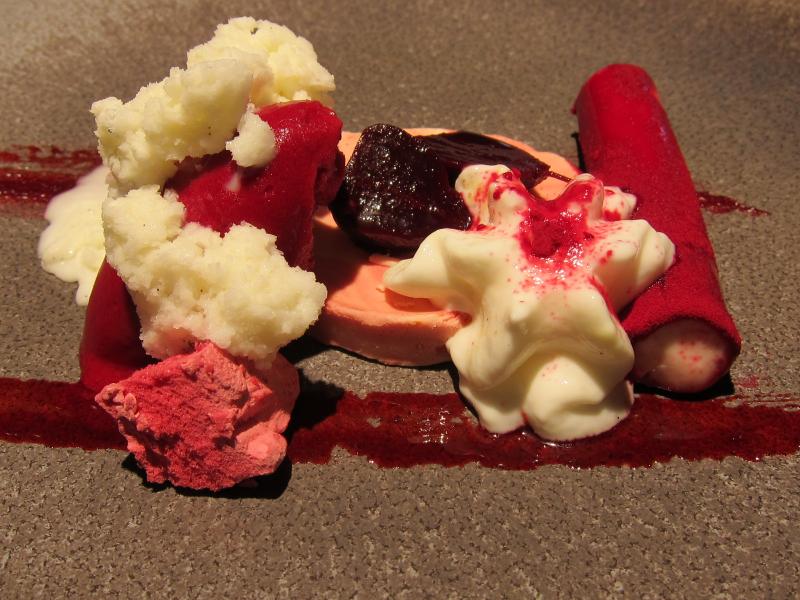 I have to say we thought the presentation to be visually exciting, but would it deliver on flavour?
Jelly, meringue, and beetroot sorbet, and a selection of yogurts and a granite made up the plate. Hand on heart it was far better than we thought it could deliver. Truth be told it did exceeded our expectations. An excellent dessert.
The petit four showed thoughtful presentation too. Quite an elaborate and generous offering, one of the best we have seen. There were a couple of choccies that we nibbled on before I remembered to take the photo. Witness cinnamon garnache, ricotta dumpling, armangnac truffle, carrot cake, and three tuille with, hazelnuts, dark chocolate with pistachio and ?
So that was it really. Verdict?
Well, I'm not going to mince my words. This is some of the best food that we have eaten this year, and equal to quite a few meals, if not better, than we we ate last year. We both thoroughly enjoyed this food. In fact I would go so far to say that if this was one of the young guns on the London dining scene like Ben Spalding, James Knappet and Ollie Dabbous, critics would be raving about Tom Aikens. That is the sole reason why we wanted to try his food again, just to see whether he could still cut the mustard, and in my humble opinion he most certainly can.
Our visit four years ago has now disappeared from the memory . We now embrace the new Tom Aikens and we are more than happy to share our opinion with you all.