So eventually we are in. I have tried every combination of dates available and had to settle finally for a Tuesday lunch rather than wait another couple of months for a weekend slot. This simply means a day tripper journey of over three hundred miles instead of a leisurely overnight stay and another restaurant the following day with a chilled out return back home.
To add insult to injury our normal three hour journey turns into four because of an accident which totally blocked off the M1. This was literally a few hundreds of metres in front of us just past the motorway services. Luckily we were fifty metres this side of the turn off so we were able to re-route off the rear of the services to the next motorway junction. I was joyous of the fact we had started earlier than normal.
We arrive late and stressed after a further delay in parking the car because a new company is in charge of parking so I have to re-register which they simply can not do that quickly.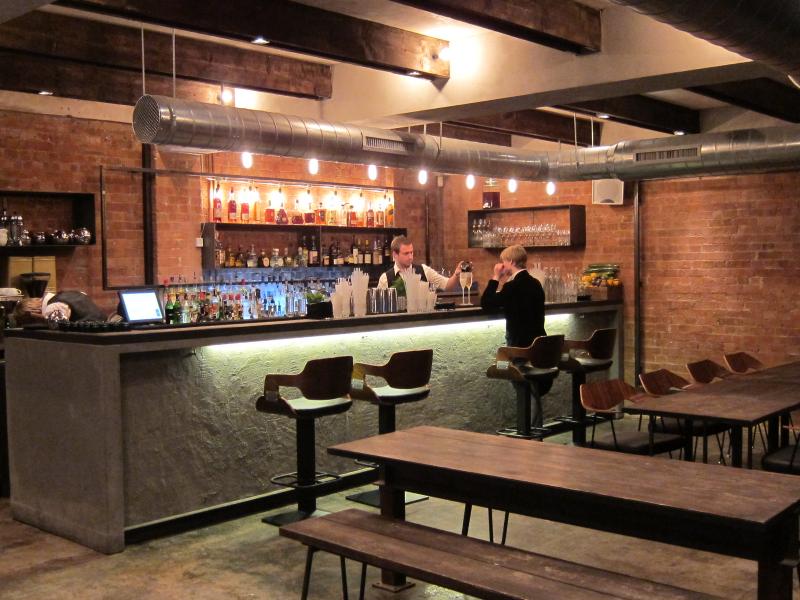 The restaurant is on the ground floor and is smaller than I thought, perhaps seating thirty or so. The basement bar is larger, perhaps twice as large and equally as industrial.
Metal thieves would have a field day in here, its all metal, more metal, concrete and bare brick with a bit of wood thrown in for good measure. The oversize metal front door would not keep them out they would simply nick that too.
Service put us at rest from the off as I was assured that the tasting menu was still on offer even though we were late arriving. The set menu was however very appealing with quite a few dishes crossing over from the a la carte and tasting menu, this from memory was £24 for four courses, excellent value. The carte has five, six and five choices and seems very reasonably priced although having said that you will need four perhaps even five courses to fill you up.
From reading some of the reviews I had a nagging feeling the portion size was going to be an obsticle for us. Indeed the coddled egg dish (which we shall come to later) I viewed as a bit of a micky take at £7.
The homemade nutty Rye bread arrived warm in a date stamped brown paper bag, with some whipped salted butter and a handfull of tasty bulbous green olives.
The bread had a fantastic crust with good flavour and exploded in the mouth to meld with the salty butter.
The tasting menu seemed good value at £49 for seven courses but apart from the egg I could see that one of them was a pre dessert so that would no doubt be tiny. Time would tell if we were sated at the end or not.
Bang in season,
English asparagus
was presented with a deliciously lush homemade virgin rapeseed oil mayonnaise. Sprinkled on the plate were some chopped hazelnuts and meadowsweet. We were advised to eat this with our fingers which was a bit messy but fun.
Mixed alliums in a chilled pine infusion
sounded intriguing. How would it eat, how were the onions cooked, etc.
I thought the dish was a real looker. I had to take multiple photos to make sure that I captured the dish correctly.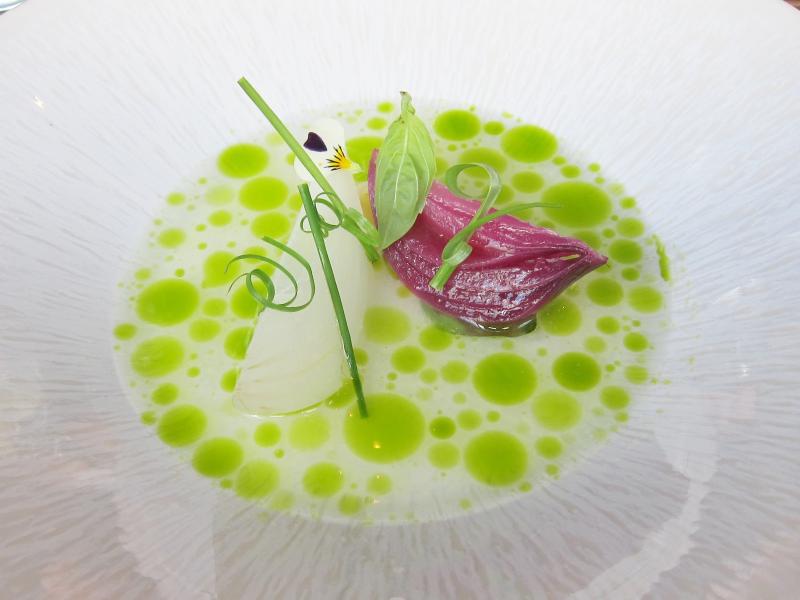 What a simple plate of food and really refreshing on a summers day. Floating in the broth btw is an aioli and basil emulsion. You have to be careful cutting the onions as they are served with a good bite to them.
We are spoilt with eggs, my ducks lay fresh ones daily in spring and summer so the
Coddled free range hen,s egg
had a lot to live up to. Not at all sure what "woodland mushrooms" were in the egg, they were a tiny dice but did their job well along with the smoked butter. Not for me as ethereal as others may decide but nevertheless a simple fun dish nicely presented. I guess it may end up being a signiture dish (if not already).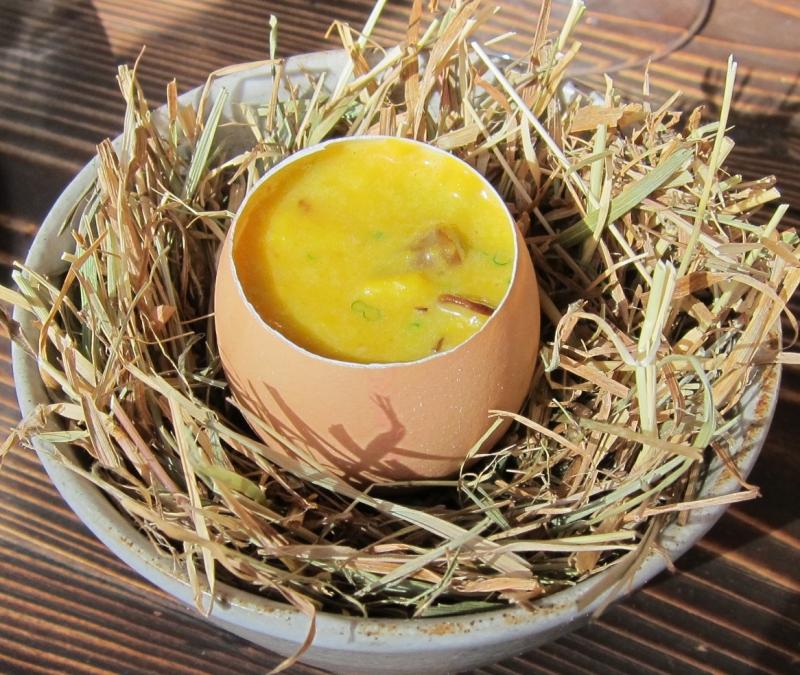 Charred Salmon with elderflower, spring onions and almonds
was again summer on a plate, and boy was the sun shining today.
Top tasty piece of well sourced salmon, sweet distinctive elderflower with a spritz of lemon, whats not to like.
The only meat on the well balanced menu was
Barbecued Iberico pork
perched atop a mound of savory acorn praline. To the side are turnip tops and somewhere on the plate was homemade apple vinegar, I suspect dressing the turnip tops. I was informed the pork is simply barbecued in the kitchen with no sous vide involved at all.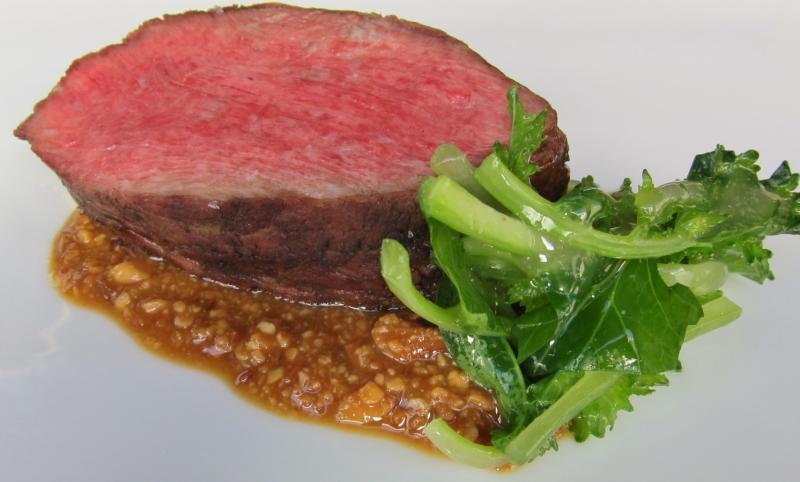 I have a lovage plant growing in my garden which should be bursting into life very shortly, the pre dessert of
Iced lovage
has given me an idea as to how to use some of the leaves. I guess not to everyones taste this really is a distinctive herb but for us it worked and freshened the taste buds up no end.
A work of art next and possibly my favourite dish. The forest floor on a plate. No not a plate, my mistake, a slate no less to show it off to better effect.
Chocolate and virgin hazelnut oil ganache, basil moss, sheeps milk ice cream.
. Witness chocolate ganache, chocolate log, chocolate soil, basil moss, dill cream, and the ice cream.
Too often desserts are oversweet, some are sickly sweet and part way through they can become hard work, this was totally the opposite, visually exciting, we could not wait to get tucked in. Perfect balance of crunch, pitch perfect ganache, slightly sour notes from the ice cream and an excellent "basil moss". A star dish imo.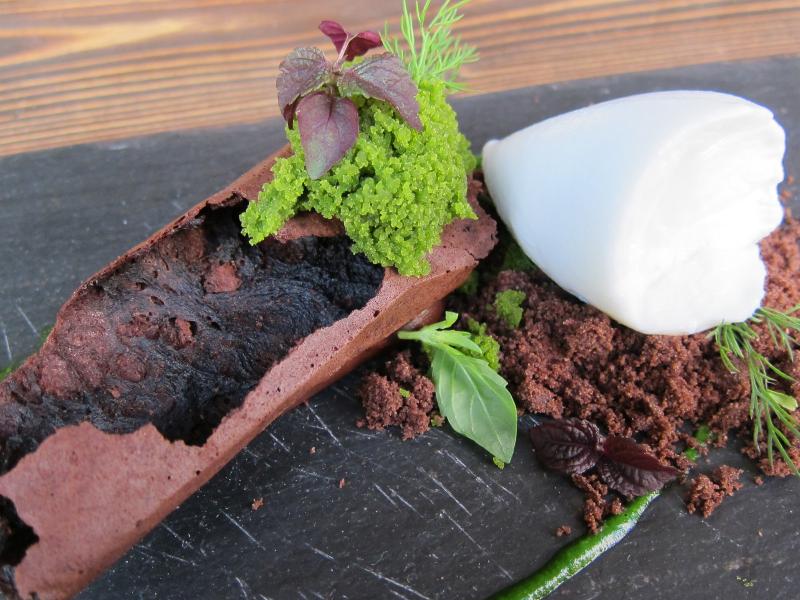 Now then we skipped coffee as we normally do but were still served the most amazing canneles, sponge cakes baked in beeswax with a cherry on top. Absolutely gorgeous, the cherry on the top was a revelation I can't imagine these being bettered. Fantastic, I wished I had been cheeky and done an Oliver Twist and asked for more.
Now then I never ever go to a restaurant looking for faults, its just not me, why pay good money to be unhappy? Having said that I did think that Dabbous would perhaps not fully live up to the hype. I did expect to nit pick on portion size and I suspected service may not have been perhaps all that, but I was wrong. Everything seemed destined against an enjoyable experience but we immediately fealt relaxed and fully enjoyed the experience.
Special mention to Graham Burton and his staff for looking after not only us but some of the happiest customers that we have seen in a restaurant in recent times.
Considering that he worked last with Agnar Sverrison at Texture for a number of years Ollie Dabbous has not copied his style but developed his own and that is admirable indeed. There is a clarity about his food, its not muddled with lots of different flavours and indeed as we expected we think so far that this has got to be the restaurant opening of the year and a very exciting one at that. Shame again its so far away and booked so far in advance, still, there will be a next time.
After service Ollie came out of the kitchen to spreak with a fair few of his customers whom he seemed to know quite well. Eventually and mindfull not to keep him we had a very brief chat before we hit the chaotic M1. He certainly is humbled by all of the attention he is getting and he seems to be a really focused hard working guy. We wish him all the very best.
We took this photo.